Household designer Ria Darai reviews Kings Cross' new retail destination.
From coal to club to a new shopping destination, it's come a long way since the dark days of Victorian London. Coal Drops Yard is Kings Cross' new shopping street where people can eat, drink, shop and play. The converted 19th Century coal warehouses, designed by the Heatherwick Studio, are now home to a mix of newcomers and signature brands.
Tom Dixon's Studio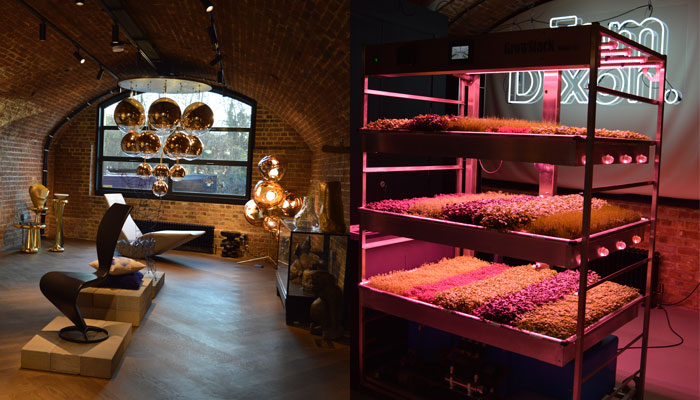 Self-taught designer Tom Dixon brings his iconic work, studio and restaurant to the arches of Coal Drops Yard. The new brand home houses a live studio, workshop space, office and shop all under one roof. Each arch showcases a different category: guests can explore a space full of fragrance in the perfumery; browse old and new collections in the furniture shop and gain inspiration and expert advice at the trade counter. A highlight of visiting the studio is seeing new design prototypes and getting a sneak peek into the future of the brand, such as the current collaboration with Ikea. 'Gardening will save the world' explores sustainable, affordable solutions for people to grow food and medical plants at home. The designed and realised model for growing plants in urban environment will be part of the RHS Chelsea Flower show and available for people to buy from Ikea in 2021.
'Wave-field, Variation F' installation
The illuminated musical seesaw installation makes for a fun break in the customer journey. Shoppers are not just looking at the art but actually interacting with it, creating an ever-changing musical event where light and sound build and intensify. Once in motion, the seesaw turns into an instrument and the visitors produce the melody, bringing out the kid in everyone. Light intensity and sound levels change as the plank moves up and down, and the more seesaws in motion, the more tuneful the music gets. In theory, the installation should encourage encounters between strangers, but the reality is that people prefer to enjoy the artwork in isolation, with people they already know. Nevertheless, 'Wave-field, Variation F' adds a playfulness to the space and the sound invites guests to venture deeper into Coal Drops Yard.
COS
The harmony between the store's modern aesthetic and surviving industrial details is a great example of the approach Heatherwick's studio took when it came to the sensitive restoration of the listed Victorian structures. The pared back design allows guests to appreciate both the product and the existing architecture, perfectly balancing old and new. The curated space blurs the boundaries between shop and exhibition, with artworks interspersed amongst the COS collection. The standout piece was a light installation by Paul Cocksedge – The Orbits. The installation explores the tension between opposing forces, using rocks hanging weightlessly in the air by hoops of fluorescent light.
Coal Drops Yard is a standout exercise in placemaking that successfully integrates old amongst the new, embracing the area's industrial heritage while celebrating modern design.
Sketch by Household Creative Director Siu-Lan Choi