Nesting millennials and digital native brands are driving a shift in the home category.
With Millennials going online to seek out quality products at an affordable price point, Home goods became the fastest growing category sold online in 2016 (Digital Commerce, 2018). This year there has been a continued influx of digital native brands delivering these products direct to the customer, without the price mark-up. This month's Hotlist explores the brands tapping into the Home market and the key to their success.
THE WARBY PARKER PHENOMENON
Warby Parker is heralded as the benchmark of this direct-to-customer approach. The secret to the brand's success is twofold. Firstly, the creation of a successful business model that bypasses the middle man to deliver a better price point. And secondly, an emphasis on building brand loyalty through meaningful customer interactions. Ever since, brands taking the same direct-to-customer approach have been dubbed the 'Warby Parker' of their sector. For instance, Casper, Weezie and Year & Day have been respectively described as the Warby Parker of mattresses, towels and dishware.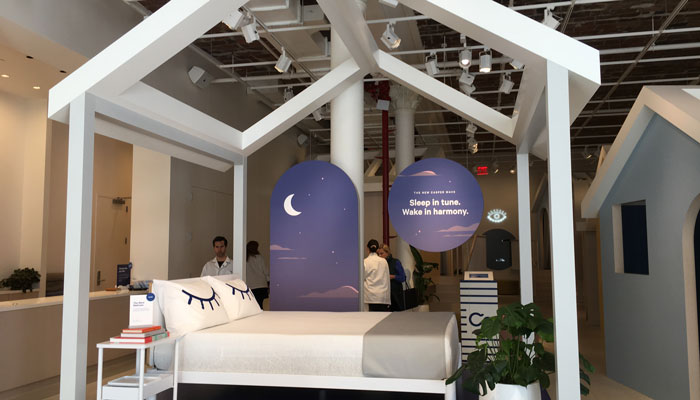 PUTTING THE FUN BACK INTO FUNCTION
These digital native brands are taking products that were previously regarded in a purely mundane or functional light and creating an emotional connection between the brand and the product. Take toilet roll provider Who Gives A Crap. Sustainably created and presented in colourful paper, the brand has transformed the ultimate functional product into something you might display proudly on a bathroom shelf. Who Gives A Crap delivers straight to the customers' door, cutting out the inconvenience of lugging an unwieldly eighteen pack through the city on your commute home. The brand even donates 50 per cent of profits to help build toilets for those without access to proper sanitation.
MAKING GOOD LIVING EASY
Direct to customer brands like Who Gives A Crap are positioning themselves as the go-to-provider for a quality product that is sustainably made, shifting perceptions in the process. And, it's the brands that make the good-for-you and good-for-the-planet choices easy that appeal to a young, time-short, activism and wellness minded customer.
Patch Plants for instance has made having a home full of greenery accessible. These are living homewares, sent with care guides, given human names and delivered to your door. Making it that bit easier for people to achieve their Pinterest dream home and lifestyle. Patch's pop-up collaboration with like-minded homeware brand Swoon continued to shift perception of plants from something that experts get at garden centres, to a must have accessory.
THE ROLE OF PHYSICAL RETAIL
However, while the online starting point has been key to the success of Patch Plants and co, the role of physical retail is increasingly playing a role in their brand strategies. Digital born start ups continue to move into physical spaces, placing an emphasis on experience and immersion rather than sales alone, and legacy retailers can learn from this.
Year & Day found success with its elegant, minimalist product aesthetic and promise that customers that don't have to wait for a wedding gift registry to have a nice tableware set. The brand frequently launches pop ups in partnership with other home brands, and has now opened a pop up in Soho, New York, to create a physical space where customers can trial products and have a physical experience with the brand during the key holiday shopping season.
360º BRAND EXPERIENCE
One in three people say there are places where they feel more at home than the space they live in (Ikea, 2018). This is perhaps unsurprising given increased time people spend renting and the lack of privacy in shared accommodation. The opportunity for brands is clear here, to consider how they can create belonging and security in both shared and private spaces and help people feel truly at home in the places they live.
Everyone is trying to be the next Warby Parker, but competition is fierce – just think, how many mattress adverts have you seen in the past year? These digital native brands need to take it one step further to really nail an all-encompassing brand experience.