Following our recent trip to New York, we review Hudson Yards, the city's $25bn real estate development that showcases the latest in destination mall retailing, luxury fashion experiences and sustainable architectural design.
A NEW STATE OF LUXURY
As the largest private real estate project in the US, Hudson Yards represents a new state of luxury, a destination that provides an experience of grandeur just by walking around. The development has been criticised as a 'billionaire's playground', but this seems to miss the point. Hudson Yards caters to people's growing desire for moments of escape, and it is open to anyone and everyone, making luxury accessible to all.
Elements such as Thomas Heatherwick's interactive sculpture, The Vessel, and an interactive sequin wall embody this shift towards accessible luxury. These features encourage everyone, regardless of age or gender, to engage with the space. Active involvement and photo sharing increase dwell time and the location's public profile.
Customers increasingly expect more from retail spaces: 68 per cent of customers say they want stores to offer experiences, services or leisure activities (RetailExpo, 2019). Hudson Yards' retail space, referred to by developers as a 'vertical shopping experience' due to its seven storeys and experiential focus, caters to this trend. For example, luxury department store Neiman Marcus features a spa, salon and pop up florist alongside its retail offering, which includes a Household-designed Christian Louboutin concession.
NEIMAN MARCUS & CUSTOMER EXPERIENCE
Neiman Marcus taps into hospitality thinking to create a hybrid destination, offering experiences engineered to increase dwell time and spend. The most natural and successful are those relating to fashion and luxury, such as Atelier Notify, a jeans customisation concession. Others, such as vintage arcade games, feel gimmicky, particularly as it is unclear whether the arcade games are intended to be actually played or not.
Playful VM and displays guide the customer through the space. Mannequins are placed as though on a catwalk, encouraging customers to weave in and out of fashion and interact with the analogue elements. Preservation of open space avoids any feeling of overcrowding.
Neiman Marcus' Hudson Yards store creates stories within spaces that are unique to particular brands. The space feels open for exploration, making the customer part of the fashion story being told.
CHRISTIAN LOUBOUTIN CONCESSION BY HOUSEHOLD
Inspired by Christian's Parisian home, the living room configuration of the concession's seating is friendly and inviting. These domestic cues create a feeling of intimacy and the iconic Louboutin red communicates distinct brand personality within the larger department store. Low, free-standing units enhance the impression of individual pieces of furniture within an apartment and the shoes become Christian's personal collection displayed on cabinets like ornaments.
Intricate metalwork niches with fluted glass allow visibility and velvet backdrops frame the product, bringing unexpected softness to the threshold. These framed transitional spaces catch the eye and draw the customer in.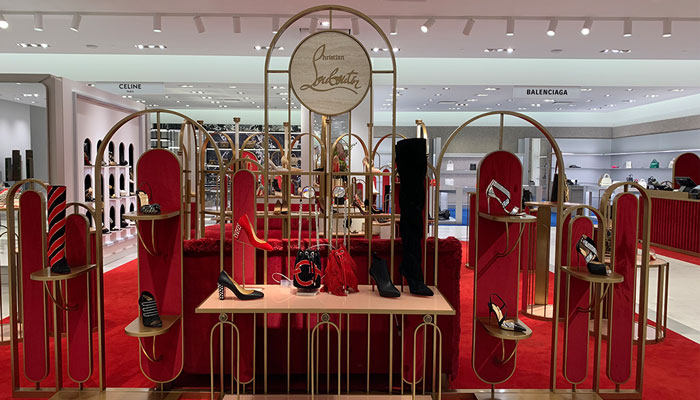 B8TA
Tech brand, b8ta, uses domestic cues to create home-type experiences in which tech is extremely accessible and made to feel essential. Framing new technology in a warm, hands-on environment allows customers to envisage the products in their life and to get excited about what technology can do for them in their home. Play is encouraged and during our visit the store was alive with engagement across all ages.
Hudson Yards is buzzing. And quite rightly: it's doing lots right. Its beautiful blur of retail and hospitality creates a seamless hybridity that keeps you there longer. Ambitious aspects such as the Vessel change the sense of the experience from purely retail or hospitality to something more aspirational and desirable. It is an attraction in itself that increases and encourages exploration and dwell. The energy within the retail space feels activated and service-orientated, redefining luxury to make it accessible for any and all.
For more sizzling NYC retail, click here.